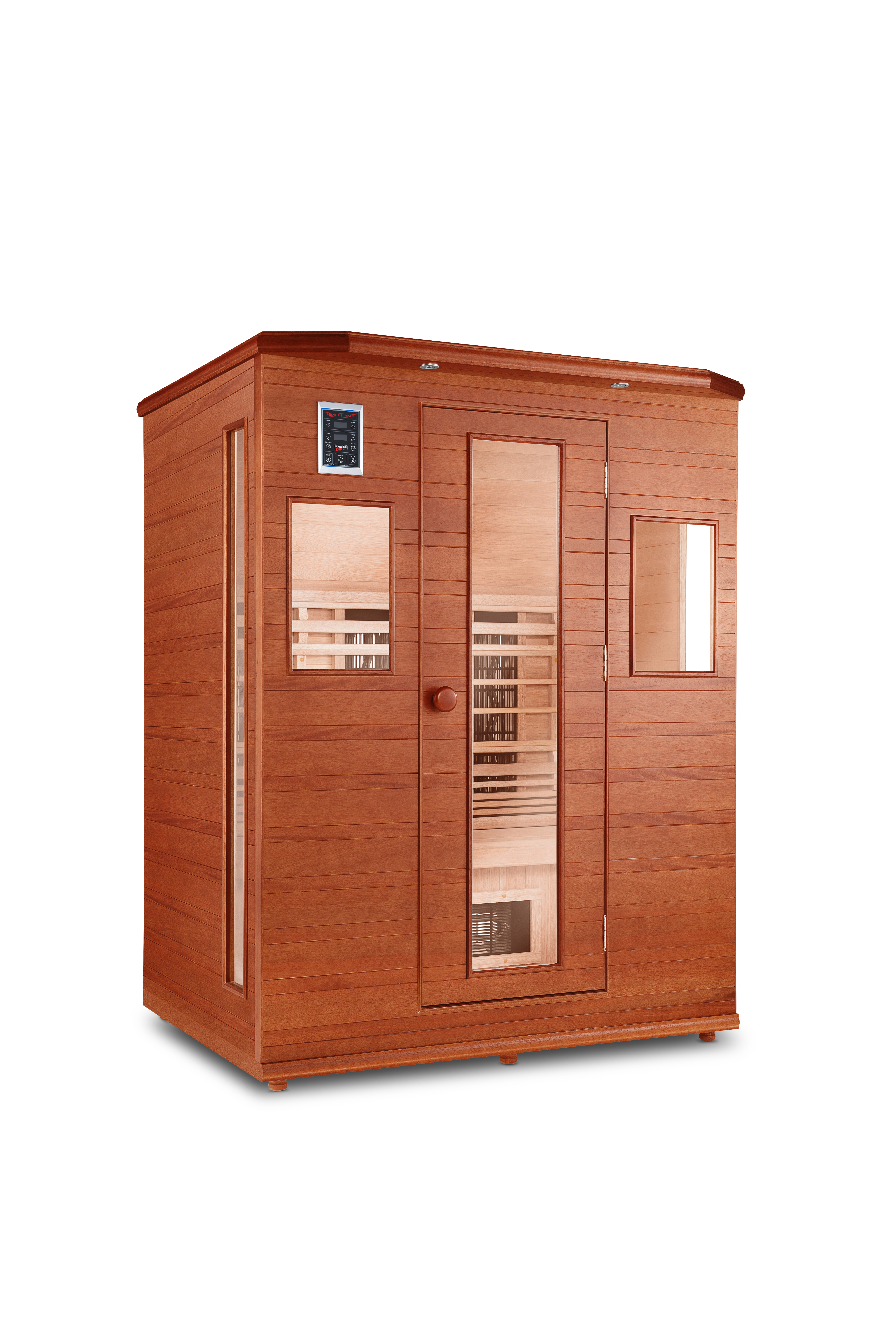 Enrich 3
Enriched Health With Room For 3
We took our popular Enrich 2 model and expanded it to easily accommodate 3 people, making it the ultimate in infrared comfort. It has all the great features of the 2-person, full-spectrum infrared sauna, including our patented Tecoloy™ mid- and far-infrared heater technology, plus a 96-diode near-infrared color light LED panel (including Red Light therapy), wood-surround glass door, exterior lighting, an ergonomic bench, an interior towel bar, three-floor heaters, and so much more. This award-winning model is your perfect choice for a luxury sauna experience at home or in your clinic. Requires no tools for easy assembly.
Superior Quality
Durability, craftsmanship, and safety are at the forefront of every single sauna we make. The Enrich series embodies this philosophy through its enhanced heat-retention design using solid eucalyptus wood, advanced technology, and unmatched heaters. Our 5-stage quality control process ensures you get a superior product. Health Mate takes its 40 plus years of manufacturing experience seriously as we continue to lead the industry in infrared sauna development. 
Unrivaled Value
The Enrich 3 has it all—looks, functionality and added details that make it our most in-demand model. With room for 3 people to comfortably enjoy, you can't find a better combination of luxury and longevity that checks all the boxes when it comes to infrared saunas. 
Full-Spectrum Coverage
Infrared heat is produced from a spectrum of powerful wavelengths, and with the combined intensities of near-, mid- and far-infrared offered in this Enrich model, you receive the maximum health benefits and relaxation. The Health Mate advantage is in our patented infrared heaters that feature high-watt, 360-degree coverage second to no other  sauna on the market.
Advanced Chromotherapy
Your Enrich 3 comes comes standard with  chromotherapy lighting via a 96-diode near-infrared LED panel. Choose from 9 colors, including Red Light therapy, to customize your sauna experience at the touch of a remote.  Learn the health benefits  attributed to each color and enjoy  enhanced wellness and healing.
Ultra Low EMF
All our saunas, including this Enrich 3, are equipped with low EMF technology, ensuring you get the greatest infrared benefits at the safest levels possible. Low EMF applies not just to its 10 heaters, but also to the controllers and electrical components. Health Mate's 3rd party Tecoloy EMF report supports our safety standards and provides full transparency of our leading technology.
Product Specifications
Dimensions
Exterior: 59"W X 43.5"D X 77"H
Interior: 56.75"W x 39.75"D x 71.5"H
Heaters
Wall & Bench: Tecoloy™ Dual-Wave Heaters
Floor & Lower-Back: TruInfra™ Far-Infrared Heaters
Near-Infrared LED array on ceiling
Electrical
120V / 2225 Watts / 20 Amps
Plugs into a standard 120v 20a outlet
Plug type: NEMA 5-20P
Wood
100% Natural Eucalyptus Wood
Naturally Anti-Microbial
100% Non-Toxic
Sustainably sourced
Features
Built in Bluetooth sound system
Exterior lighting
Interior towel bar
Ergonomic bench
Interior and exterior controllers
Each Health Mate Sauna is designed to easily assemble using a latch-buckle system. In around 30 minutes, two people should be able to put your sauna together. The control panels and heaters are simple to connect and come with basic instructions.