Discover
Discover Your Perfect Sauna
Not sure which sauna is right for you? Take this quiz to find out which infrared sauna best matches your lifestyle.
How much room do you have for your sauna?
How many people do you expect to use the sauna at once?
Why are you interested in getting a sauna?
Is it important that your sauna is full spectrum?
Is it important to be able to control your sauna from your phone?
What is your budget for a sauna?
See It For Yourself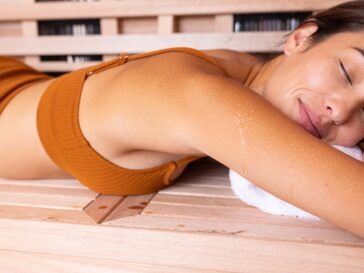 Superior Heat
Our patented sauna heaters offer the fastest heat-up times and highest temperatures. The 80/20 balance of natural eucalyptus wood to glass construction ensures maximum heat retention for the most health benefits.
True Full Spectrum Infrared
Our saunas offer a combination of far-, mid-, and near-infrared frequencies, including Red Light, delivering the full range of wellness benefits at ultra-low EMF levels.
Quality Construction
Not only is Health Mate the industry pioneer, but we manufacture our infrared saunas in our own facilities. This translates to a thorough quality control process resulting in the finest saunas.
We are thrilled with our purchase of your fine sauna… The assembly is a pleasure, and the instructions are clear and easy to follow. In short: for clients who are quality conscious, Health Mate is the answer.
– Elisabeth W.